"I have come so that they may have life and have it to the full" John 10:10
Our Ursuline Congregation is international with provinces in Belgium, India and the United States. The Democratic Republic of Congo is a Vice Province and Canada is a House of the Institute. The seed planted by Angela Merici has become a great tree, branching into many countries and continents.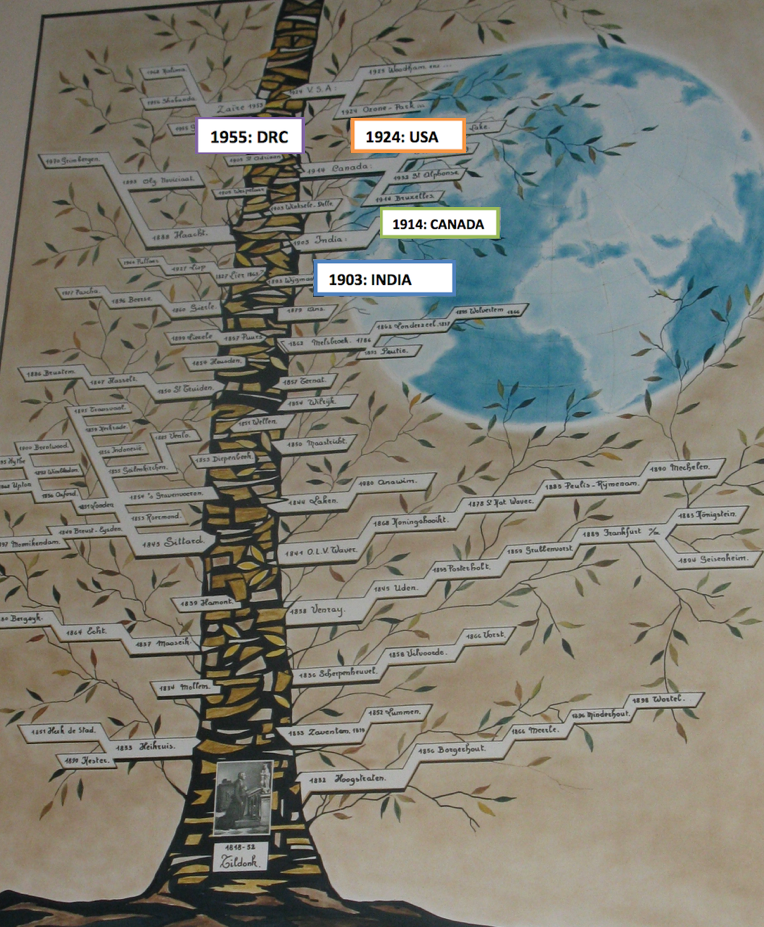 Belgium is the birthplace of the Ursulines of Tildonk where they were founded in the small village of of Tildonk in 1818 by Father John Lambertz. Today there are 42 Belgian , 4 Indian and 4 Congolese Sisters. Over the years the Sisters of the Belgium Province have truly been the pioneers and have provided a strong foundation for future foundations. Even today when fewer Sisters are in active ministry, many of the schools they ran maintain a strong sense of belonging to the family of Ursulines and carry the heritage handed to them by the Sisters.
In 1903 four Sisters from Tildonk left for Ranchi in India, at that time , Bengal State. Over the years 73 Sisters including one America Sister all left from Belgium and ministered in India. Now there are four Provinces, with more than 800 Indian Sisters living in 90 Communities.
Upon the Invitation of the Belgian population in Bruxelles, Winnipeg two Sisters travelled to the northern region of Canada in North America. Over the next 62 years, Sisters served in Manitoba, in the Winnipeg area of the Province of Manitoba. Now there are six Sisters in Canada.
1924 - United States of America
The United States Province began in 1924 when seven Sisters and two candidates from Canada began a School in Ozone Park New York. They addressed the needs of a largely immigrant population by providing quality education and social services today. Sisters, numbering 42, live and serve in Vermont, Connecticut and New York.
In 1955 the first Belgium Ursulines went to Shabunda in South Kivu Province. The country has undergone many changes; once called the Belgian Congo, then Zaire and it is now the Democratic Republic of Congo. The Sisters run schools, litreacy programs, and help children who have suffered due to trauma. There are now 68 Sisters living in the eastern part of the DR Congo.
In 2006 four Sisters from Ranchi Province in India began a mission in British Guyana, South America. Ursulines work with the Jesuits from the Ranchi Province. The Ursulines have a mission in the Interior of the Country serving the people in the communities of the south Pakaraimas region.